Posts for: February, 2018
By Mark L Randall, DMD
February 17, 2018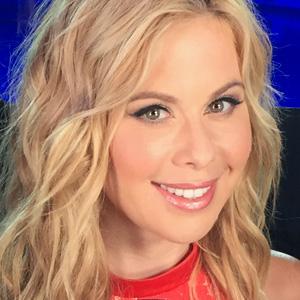 What does it take to win a gold medal in figure skating at the Winter Olympics? Years and years of practice…a great routine…and a fantastic smile. When Tara Lipinski won the women's figure skating competition at the 1998 games in Nagano, Japan, she became the youngest gold medalist in an individual event in Winter Olympics history—and the whole world saw her winning smile.
"I love to smile, and I think it's important—especially when you're on-air," she recently told Dear Doctor magazine. "I am that person who's always smiling."
Tara's still skating, but these days you're more likely to see her smile on TV: as a commentator for the 2018 Winter Olympics, for example. And like many other athletes and celebrities in the public eye—and countless regular folks too—Tara felt that, at a certain point, her smile needed a little brightening to look its best.
"A few years ago, I decided to have teeth whitening. I just thought, why not have a brighter smile? I went in-office and it was totally easy," she said.
In-office teeth whitening is one of the most popular cosmetic dental procedures. In just one visit, it's possible to lighten teeth by up to ten shades, for a difference you can see right away. Here in our office, we can safely apply concentrated bleaching solutions for quick results. These solutions aren't appropriate for home use. Before your teeth are whitened, we will perform a complete examination to make sure underlying dental problems aren't dimming your smile.
It's also possible to do teeth whitening at home—it just takes a bit longer. We can provide custom-made trays that fit over your teeth, and give you whitening solutions that are safe to use at home. The difference is that the same amount of whitening may take weeks instead of hours, but the results should also make you smile. Some people start with treatments in the dental office for a dramatic improvement, and then move to take-home trays to keep their smiles looking bright.
That's exactly what Tara did after her in-office treatments. She said the at-home kits are "a good way to—every couple of months—get a little bit of a whiter smile."
So if your smile isn't as bright as you'd like, contact our office or schedule a consultation to find out more about teeth whitening.  You can read more in the Dear Doctor magazine article "Important Teeth Whitening Questions Answered" and "Tooth Whitening Safety Tips."
By Mark L Randall, DMD
February 02, 2018
As we age we become more susceptible to dental diseases. A common but often initially unnoticed problem for seniors is root decay.
We're all familiar with tooth decay in the crown, the visible tooth above the gum line. Bacteria feeding on leftover sugar in the mouth produce acid, which at high levels erodes the teeth's protective enamel. This forms cavities and, if untreated, deeper infection within the tooth that could reach the bone via the root canals.
But decay can also directly attack a tooth's roots below the gum line. Roots are made of dentin and covered by a very thin layer of mineralized tooth structure called cementum.  Cementum, which is much softer than enamel, is often lost because of its thinness, thus exposing the root's dentin. This can make the area more susceptible to decay than the enamel-covered crown. Normally, though, the roots also have the gums covering them as added protection against bacterial infection.
But gum recession (shrinkage), a common experience for people in their later years, can expose the root surfaces. As a result, the roots become much more susceptible to decay. And an ensuing infection could spread more quickly into the interior of the tooth than decay originating in the crown.
That's why it's important to remove the decayed material and fill the root cavity to prevent the infection's spread. While similar to a crown filling, the treatment can be more difficult if the root cavity extends below the gum line. In this case, we may need to perform a surgical procedure to access the cavity.
There are other things we can do to help prevent root cavities or limit their damage. We can apply fluoride varnish to strengthen the teeth and provide extra protection against cavities, or prescribe a fluoride rinse for use at home. We can also keep an eye out and treat periodontal (gum) disease, the main cause for gum recession.
The most important thing, though, is what you do: brush and floss thoroughly each day to remove bacterial plaque and limit sugary or acidic foods in your diet. Preventing decay and treating cavities as soon as possible will help ensure you'll keep your teeth healthy and functional all through your senior years.
If you would like more information on preventing and treating tooth decay, please contact us or schedule an appointment for a consultation.